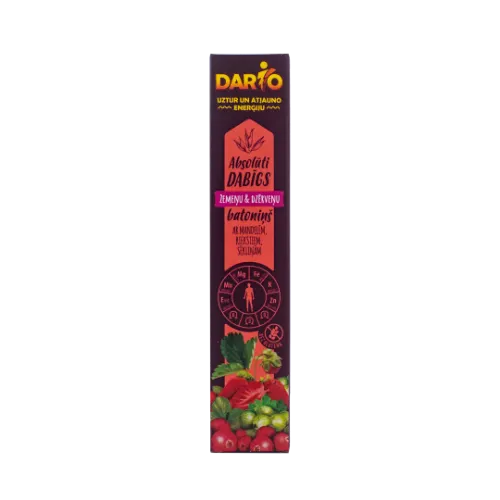 Additional photos (click to view):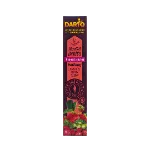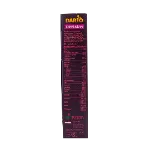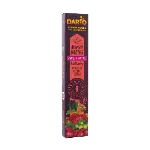 Sweets and snacks,
Bars,
Special Foods,
Without Gluten
Strawberry - Cranberry Bar with Nuts, Almonds & Seeds
"DARIO" is a healthy and delicious bar made only from natural ingredients. Low sugar content and high amount of naturally stored vitamins, minerals and fiber. The bar will restore the body's energy and keep it for a long time! This product is recommended by the Latvian Association of Dietitians!
100g of product contains:
Potassium - 408mg (20% NRV)
Fe (iron) - 3.06 mg (22% NRV)
Omega 3 - 0.4g
Omega 6- 8.0g
Omega 9- 6.5g
Zinc - 1.76mg (18% NRV)
Mg (magnesium) - 116mg (31% NRV)
Mn (manganese) - 1.92 mg (96% NRV)
Protein - 8.9 g
Fiber - 9.8 g
! Rich source of fiber
Berry-fruit and vegetable bars, with nuts, almonds and seeds, in berry glazes - a truly heavenly natural energetic! Our bars are functional, delicious and based on science. They have been created in cooperation with the Latvian University of Agriculture – as a part of the project of the development of a new, innovative group of energy products. These bars are recommended by the Association of Dietitians and approved by the LSPA. The bars are easy to digest and have a pleasant consistency, without separate, pronounced pieces of ingredients, therefore, due to their soft consistency, this product is popular with children and seniors. Choose sweet strawberries, with cedar nuts, or the mild flavors of rhubarb and pumpkin seeds, but for those who love something more extreme - they should definitely taste our glazed berry explosives - a real vitamin explosion on the tongue!
Enjoy this energy-filled product and vitality will never leave you!
A healthy and valuable product.
The bar is 100% natural, based on plant products, which contains an impressive, naturally preserved complex of biologically active substances: minerals, vitamins, fiber, omega fatty acids, as well as a significant amount of protein.
The bar is very filling and a great energy source, so you do not need a large amount of this product to achieve what you want.
We produce bars with various functional properties - for athletes, especially women, for energy, with collagen, muesli, etc. We offer various flavor bars, including organically produced ones.
These products are gluten-free and suitable for vegans and vegetarians.
This bar contains only natural ingredients, without any added preservatives or colorants. They are not needed because the main "natural colorants" of our bars are the biological pigments found in berries. There are 4 groups of pigments: CAROTENOIDS (red, yellow and orange pigments), ANTHOCYANINS (blue, red, purple pigments, depending on the pH of the environment), CHLOROPHYLL (green pigment), and PHYCOBILINS (blue, red pigments).
Our bars contain the first two - carotenoids and anthocyanins, which are also naturally powerful antioxidants. Our soft, distinctly green rhubarb bar is unique in the sense that it is given a lot of color by the rhubarb itself as well as the green seed kernels it contains.
Total for 1 item: €1.83